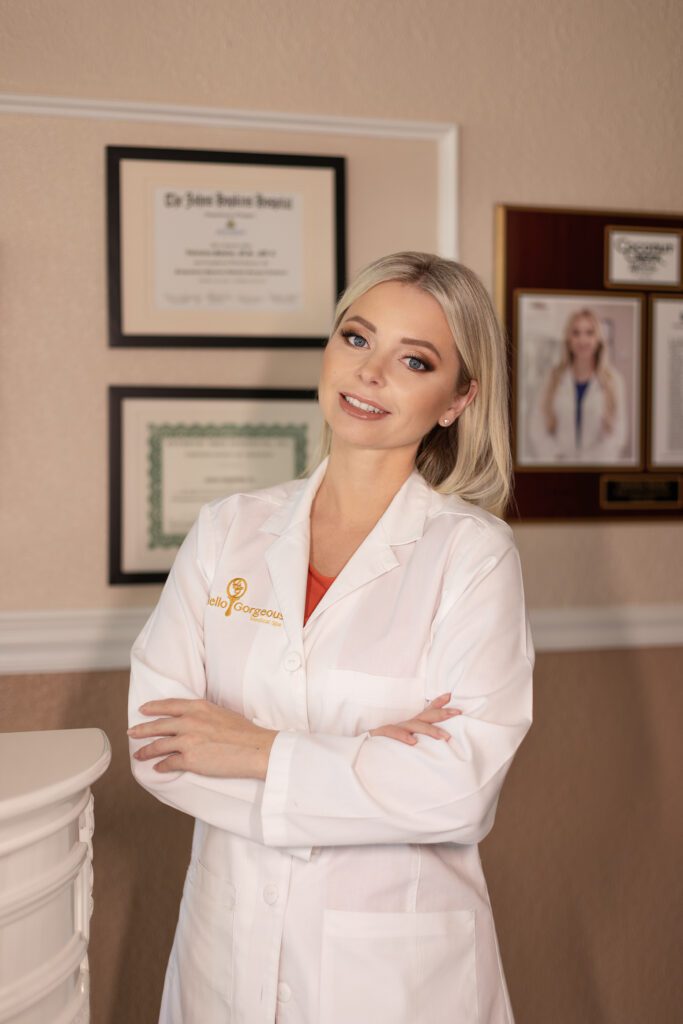 Our injector Valentina Shtefan
Doctor of Medical Science
Valentina is a Doctor of Medical Science and aesthetic Physician Assistant with exceptional medical training, a background in modeling and a passion for beauty. Valentina completed her high school with honors at the age of 16 and was accepted with a full scholarship to the medical doctoral program at Penza State Medical Institute. She completed three years of medical school before moving to the United States to continue her study abroad.
In the US, Valentina completed her Bachelor's degree at Johnson State College, her Master's degree in Physician Assistant at Le Moyne College Syracuse, NY, and doctoral degree at University of Lynchburg, VA all with a 4.0 GPA. She was accepted to the highly competitive, surgical PA residency program at The Johns Hopkins Hospital. As part of her training she worked with the world's top plastics and general surgeons and developed exceptional surgical and patient management skills. She finished her residency with honors and remained on staff at Johns Hopkins as a surgical PA until she moved to Florida in 2014.
In Florida she joined the Professional Surgical Assistants group. She has worked with many plastic surgeons in the area and has been training at Suria Plastic surgery for facial aesthetics, lasers, and RF treatments. Valentina has also been trained by the nation's best specialists on facial injection such as Dr. Shino Bay Aguilera and Dr. Whitney Bowe. Valentina had completed multiple advanced trainings both nationally and internationally. She has treated thousands of aesthetic patients and has over six years of full-time aesthetic work.
Valentina had mastered the art of smoothing age lines and winkles, contouring the face, and reshaping the lips. She is very excited to be your trusted facial injector.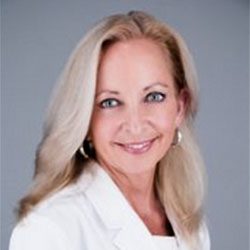 Our injector Elisa Strennen
Physician Assistant
Elisa is a certified physician assistant specializing in medical aesthetics. Providing treatments utilizing products that help clients look and feel younger, the best version of themselves. She began her medical career in the US Air Force specializing in surgery in 1984. Elisa then went on to receive her Master's degree in Physician Assistant studies from Nova Southeastern University and has worked in Broward and Palm Beach counties for the past 7 years. She looks forward to working with clients to achieve the best results possible.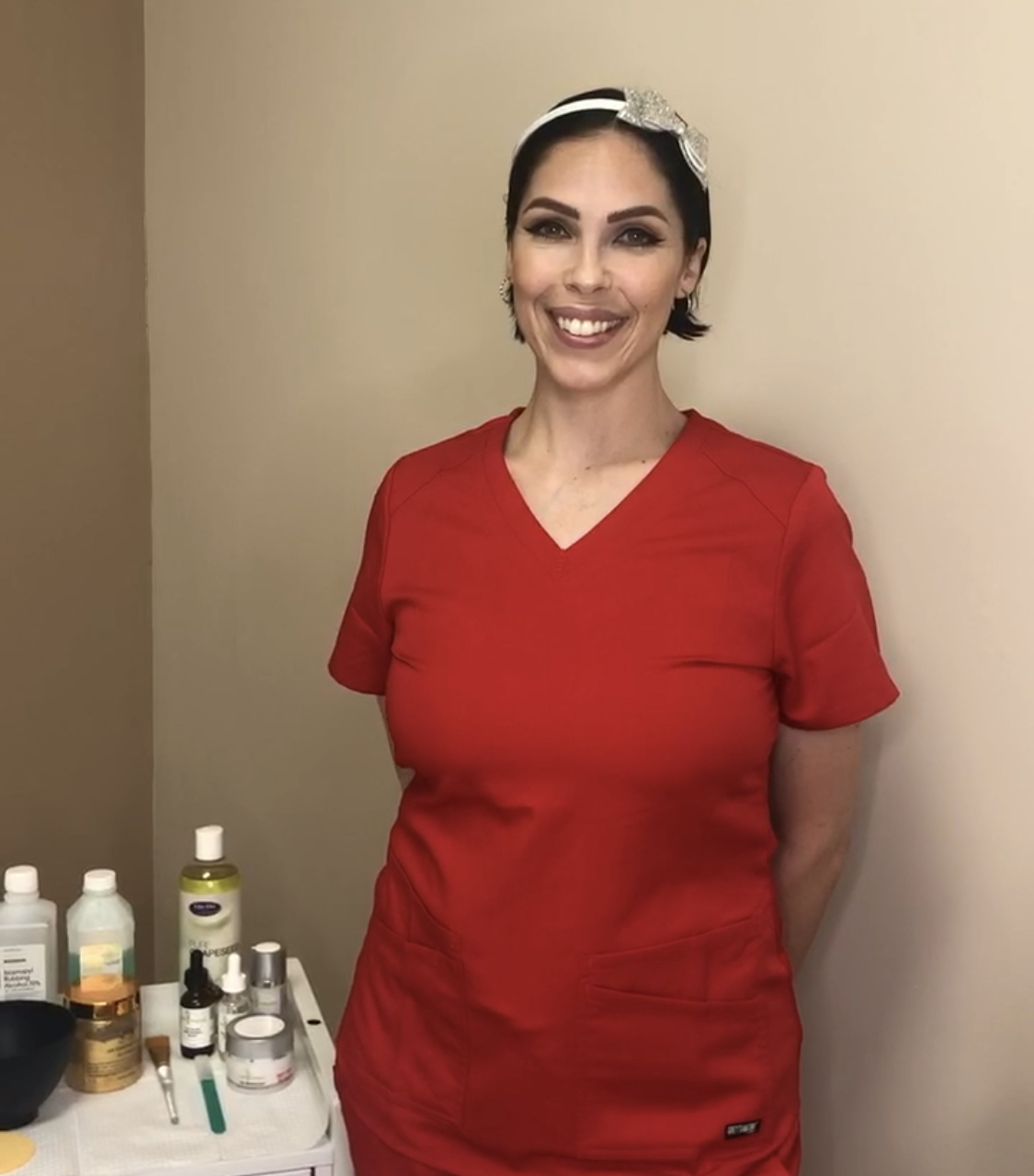 Aesthetician
Catie is a licensed medical aesthetician, laser technician, and seasoned makeup artist who has been in the cosmetics and beauty industry for over ten years. It was during her skin prep protocol involved in each makeup application that she realized how much she loved using products to make the skin look healthy and glowy. After attending school at the Boca Beauty Academy for their medical aesthetician and laser program, it became quite clear to Catie where she was meant to be in a medspa!
Born into a family of medical professionals, Catie always had a fascination with anatomy and physiology. Understanding the skin and learning how to treat a client's skin concerns was a challenge that excited her to learn as much as possible so she could deliver the desired results they never thought possible. Complete skin transformation and customer satisfaction are what she strives for with each treatment she provides. Catie specializes in signature facials, Diamond Glow facials, chemical peels, dermaplanning, microneedling with PRP, laser hair removal, and IPL.
If you have acne scarring, hyperpigmentation, uneven tone, and texture, or just feel like giving your skin a pampering session, Hello Gorgeous Medspa is the place to go and Catie does it all!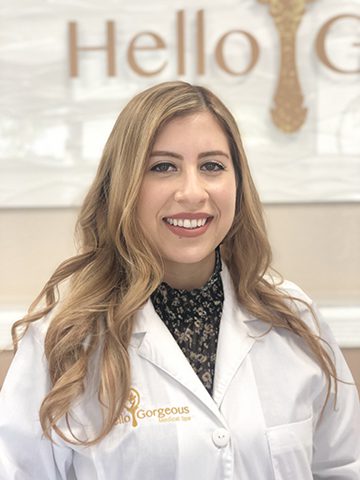 Aesthetician
Veronica Sanchez is a licensed cosmetologist who specialized in esthetics. Veronica is fluent in Spanish born in Cali, Colombia. When she was four years old her parents moved to the United States to Coconut Creek where she grew up all her life. She graduated in 2013 with her cosmetology license. She was enrolled in a dual enrollment program that allowed her to attend beauty school while being a senior in high school. Her passion for the beauty industry started very young, she has always loved to make others feel and look beautiful inside and out. She is trained in waxing by Cirépil, skin care by recognized brands such as Babor, HydraFacial, and eyelash lifting and tinting by Elleebana. Veronica recently became a new mom to her beautiful daughter Elizabeth, not only does she love being a mom she also enjoys acting, cooking, and traveling. Her husband is a musician and they both enjoy the creative aspects of life as well as being parents.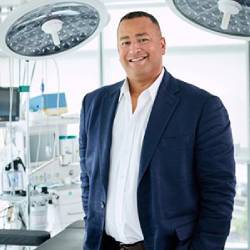 Medical Director
Dr. Jaime Flores excels in all matters aesthetic. His surgical expertise took shape at the Johns Hopkins Hospital, where his unique skill at sculpting the body culminated in the creation of a new reconstructive breast surgery, the LSGAP, which often is referred to as the "Flores flap." Dr. Flores drew on his innovative and extensive reconstructive experience to hone the art of elective, aesthetic surgery. Whether you are seeking correction, enhancement, or rejuvenation, Dr. Flores caters his craft to, and delights in realizing, the unique wishes of each patient.  
He is proud to offer his clients the comfort of discrete, in-house procedures at a cutting-edge surgical suite designed by, and custom-built for, Dr. Flores with a view towards ensuring a luxurious and personalized experience.
An American Board Certified Plastic Surgeon, Dr. Flores' clinical and practical experience, and innate talent, is world-renowned. Domestically, Dr. Flores enjoyed a full-time faculty position in the Division of Plastic and Reconstructive Surgery at Johns Hopkins Hospital. His gift for both performing and teaching surgery led to invitations to lecture and teach abroad. He now regularly travels internationally to instruct foreign surgeons on surgical techniques he has pioneered or practiced to perfection. Dr. Flores performs over 650 surgeries annually and has privileges at all local-area hospitals. He continually is recruited to improve upon medical equipment, and currently consults on the make and surgical use of state-of-the-art technologies.
Locally, Dr. Flores' generous heart is legendary. In addition to taking his time when consulting with patients, Dr. Flores' attention to his patients' well-being post-operation is unparalleled. This is true for paying patients and for the countless patients who have benefited from Dr. Flores' philanthropic work. Every year, Dr. Flores attends four to five international medical missions where he performs surgeries for cleft lips, cleft palates, burn scars, and other congenital deformities. He has been involved in missionary work since his college years and continues to devote himself to healing people in impoverished communities.
Dr. Flores grew up several blocks away from Johns Hopkins and received a Bachelor of Science degree in Kinesiology while playing football for the Maryland Terrapins from 1989-1994. He graduated from the University of Maryland Medical School and completed residencies in both Plastic and Reconstructive Surgery and Otolaryngology. A perfectionist, humanitarian, and above all, a humble surgeon, Dr. Flores' dedication to surgery and commitment to excellence is evident in every aspect of the practice he founded, Flores Plastic Surgery.