Our Selection of SkinCare and Beauty Products
Biopelle Professional Skincare
Biopelle® is a leader in advanced skincare solutions committed to delivering the most innovative, effective products through licensed health and skincare providers. Biopelle is the only physician-dispensed skincare line that utilizes the secretion and eggs from the Cryptomphalus aspera snail, as featured in TENSAGE® Growth Factor and TENSAGE® Stem Cell. Biopelle offers a full spectrum of clinically proven skincare products that address multiple concerns. Biopelle is trusted and recognized for cutting-edge technologies and science-based formulations. Distributed in over 1,500 physician offices and med-spas throughout North America and Australia, Biopelle continues to advance as a global leader in the aesthetic community.
Biopelle has been featured in major beauty and lifestyle publications such as: New Beauty, Allure, Marie Claire, Health, Refinery 29, Pop Sugar, Shape, Town & Country, Reader's Digest, Modern Luxury, Hamptons and more.
As we age, the cells in our skin break down and the natural stem cells are less able to replace them. Even if we carefully avoid sunlight and other damaging conditions, this natural aging process will lead to the appearance of fine lines and wrinkles.
Tensage® Stem Cell Cream features CellPro™ Technology, a unique, natural ingredient extracted from the eggs of the Cryptomphalus aspersa snail in an exclusive, patented process, to help improve skin's appearance during the aging process
Featuring SCA Biorepair Technology
Tensage® Growth Factor features SCA Biorepair Technology, a special secretion from the Cryptomphalus aspersa snail, which contains growth factors combined with glycoproteins and antioxidants to help repair, maintain and protect skin from the visible signs of photodamage.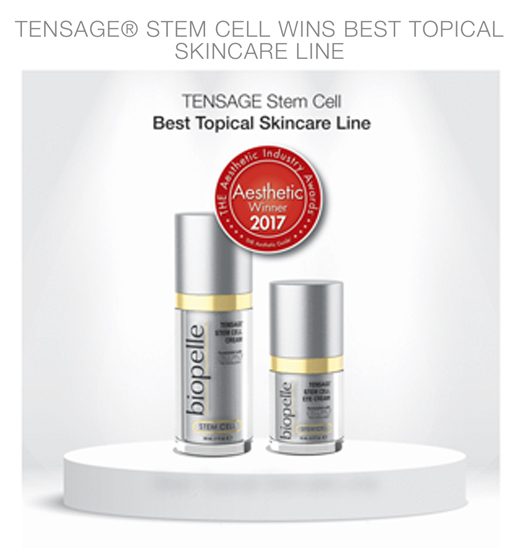 All Hydroquinone Free
Brighten utilizes a multitude of brightening agents to help brighten, even skin tone, and minimize the look of hyperpigmentation.
Victory over thinning hair
100% drug free hair growth supplements
Clinical proven and backed by 7 clinical trials
Sold exclusively through salons and medical professionals
Viviscal® users saw an 80% increase in terminal hairs in 6 months.
Viviscal® Professional supplements promote existing hair growth in four stages over a six month period.  Most users notice a difference in as little as three months.